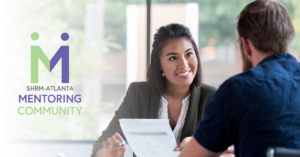 This year has ushered in an abundance of progress for SHRM-Atlanta as an organization. Enthusiasm and reinvention are everywhere and that includes SHRM-Atlanta's Mentoring Community. Change has been the driving force for the mentor partnership experience in 2022.
As the planning team began to build a new mentoring program for 2022, the focus fell on two central features: flexibility and accessibility. Mentoring can be an incredible experience and serve as a professional launching pad but, as calendars fill to the brim and "remote life" becomes standardized, time transforms into a rare currency and long-term 1:1 mentoring partnerships seem like a lofty goal.
As valuable as single-partner pairings can be, this approach limits the opportunity for HR pros in the local community to connect and grow. The key to creating an overarching openness in the new mentoring program was ultimately simple: bring people together and keep people together. The outcome was SHRM-Atlanta's first-ever Group Mentoring Program.
In this approach, a panel of several mentors share their stories, resources, and collective wisdom with up to 25 mentees throughout the program. Each month, one of the featured mentors leads a live, virtual session packed with coaching, goal setting, and support for everyone. Each mentor also provides tangible resources, like HR tools and assessments or learning material, and, by utilizing SHRM-Atlanta Connect as a communication forum, engages the entire group every week with a new activity, such as an article discussion or a unique challenge to try at work.
This framework provides structure and enhances connections but also opens the door for participants who have a lot of interest but very little time or an unpredictable schedule. Mentors lead for four weeks and can join additional activities as much as possible, just as mentees can engage as often as they like while gaining perspective from a spectrum of professionals in a wide range of industries and roles. A bonus from this program is the chance for peer mentoring and reverse mentoring – everybody will come away with something valuable.
During the construction of the group mentoring program, the planning team also took initiative to redefine what makes a mentor and mentee. Many seasoned professionals with plenty of experience continue to seek mentoring partnerships and learning opportunities, perhaps even from individuals earlier in their HR careers. Similarly, a great number of HR thought leaders with a plethora of knowledge and experiences to share don't see themselves fitting the traditional mentor mold (e.g., an executive role, an HR practitioner title, etc.). The team is thrilled to begin breaking tradition and inviting individuals to mentor who can demonstrate that the path to and through HR looks different for everyone.
The official launch of the 2022 – 2023 Mentoring Cohort is September 8, 2022.
This program creates opportunities for growth, influence, and meaningful connection in brand new ways and SHRM-Atlanta is proud to take this leap with our members. If you're an innovator with an eagerness to learn and give back, join the all-new Group Mentoring Community, and see where it leads YOU