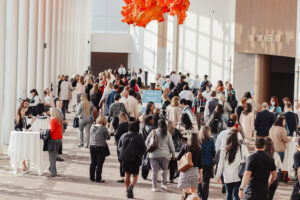 After two full days of learning, growing, and connecting within the Atlanta HR community, the SOAHR 2023 in-person experience ended with enthusiastic attendees spending an hour making music together!
Drum Cafe closed out SOAHR 2023 in the best possible way, giving attendees the opportunity to play along with some inspiring drumming, allowing their creativity and passion for HR to shine.
📷📷 We'd love to see pics of your swag – share them on social media and tag SHRM-Atlanta, especially if you walked away with some big yeti slippers!
Virtual SOAHR 2023 | April 18-19
SOAHR 2023 isn't quite finished! If you missed your chance to attend SOAHR this past week you can still attend Virtual SOAHR 2023! Two more days of learning from some of the best, alongside your community, and you don't even have to leave your house! Don't miss you last chance to attend SOAHR 2023! Register today!
Thank You, Volunteers!
SOAHR 2023 would not have been possible without the tireless and welcoming energy of the volunteers who dedicated their time to make sure all attendees had a wonderful experience. A big THANK YOU to all the volunteers who made SOAHR 2023 a huge success!
We are proud to recognize our SOAHR Superstars – volunteers who went above and beyond at the conference to create wonderful experiences for everyone and caught the attention of others for their standout work: Hope Harris, Nicole Neco, Leah Manley, Gail Nankervis, Carrisa Jones, Elizabeth Awbrey, and Sharon Cohen!
What an incredible group of volunteers at a wonderful SOAHR this year – thank you!
Join the SHRM-Atlanta + Fix Health Walking Challenge!
Sync your steps. Survive the outbreak.
In The Outbreak™, use your real-world steps and exercise to stay ahead of the zombie horde. We'll use our real-world steps and exercise to outrun the zombie horde!
Join the SHRM-Atlanta team at this link or test out the challenge with your staff by creating your own team.
The challenge starts April 3, 2023 and will end on April 16, 2023. The winning team will be announced at Virtual SOAHR, April 18-19, 2023.
SOAHR 2023 T-Shirts
There are still a limited number of the official SOAHR 2023 T-shirts for $30, and it includes shipping.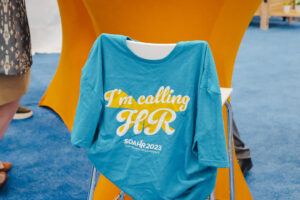 Order yours today! We'll send it to you!