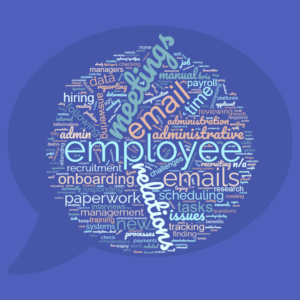 Earlier this month, SHRM-Atlanta conducted a survey of members and HR professionals to monitor their current successes and challenges as well as plans for 2023. With a 14% response rate, definite themes emerged. 
The most often mentioned goals that respondents have for 2023 is related to staff retention, succession planning, or staff advancement. Talent acquisition was also a prominent goal. Related to their organizational roles, respondents also mentioned wanting to complete projects around compliance/policy review, staff learning and development, process improvement, and/or compensation/total rewards. Personally, many respondents mentioned goals related to career advancement or certification.  
Given staffing concerns, it's not surprising that time/capacity was the most frequently cited barrier to achieving goals, followed by limited funding, insufficient strategic focus, and lack of buy-in/stakeholder support. Administrative tasks such as scheduling meetings, completing paperwork, sending email, and navigating systems were noted as taking up too much of the time professionals did have. 
Out of the most common types of software respondents were seeking, SHRM-Atlanta has planned a related Demo Day: 
People analytics – Planned for February 2023

 

Learning management – Planned for April 2023

 

Talent acquisition (

AI-based hiring systems

)

 
Respondents were interested in pursuing all the benefits proposed as choices: 
Medical/vision/dental insurance

 

Employee assistance provider

 

Retirement savings

 

Pet insurance

 

Flexible spending

 

Life insurance

 

Disability insurance

 

Relocation and housing

 
In looking to potentially outsource services, by far the most common was training (ahead of payroll/compensation, HR management, legal, and auditing services). The April Demo Days program will also feature online training providers. 
More than 40% of respondents said they experienced mental health/emotional challenges to a degree that interferes with their work. Caregiving responsibilities were also a common challenge (29%). Notably, some respondents experienced each of the following interfering with their work: 
Moving to a new home (16%)

 

Financial hardship (15%)

 

Exclusion/bias (11%)

 

Illness or injury (8%)

 

Death of a loved one (7%)

 

Personal safety concerns (4%)

 

Accident/disaster (2%)

 
A new volunteer team is planning a series of wellness initiatives to address many of these concerns, and SHRM-Atlanta is exploring other services to offer as well. 
Other opportunities for SHRM-Atlanta to improve professionals' work experience were expressed as: 
More roundtables, topical/targeted content, and webinars

 

Resources for different industries

 

Information about trends and up-to-date legal insights

 

More consistent meeting/social times and reminders

 

Easily accessible information

 
As SHRM-Atlanta seeks to plan more educational initiatives and improve communications, these insights are already being applied. A newly reimagined mentorship program hosts consistent monthly roundtables, and the eHR newsletter has been refocused to feature legal concerns. SHRM-Atlanta is introducing a new professional network for those working in the public sector, and other groups will be added in the coming months for solo HR practitioners, senior executives, and young professionals.  
Some respondents also mentioned a desire for SHRM-Atlanta to vary where in the metro area programs are held. The 2023 events calendar will address this concern, and SOAHR will move to the Gas South District Convention Center in Duluth, March 28-29.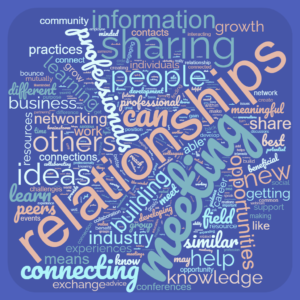 Finally, reasons why people join SHRM-Atlanta include resources/information, education, community, a local focus, (re)certification, relationships, career growth, and events. However, above all, networking is the most common response. When we asked how people defined "networking," two themes emerged: a desire to meet people with shared interests and to build meaningful relationships for mutual support. Going forward, SHRM-Atlanta events will be structured to intentionally facilitate those initial connections, and new interest groups/networks as well as volunteer opportunities will be featured as opportunities for relationship building.   
We appreciate all those who shared their perspectives through the survey. As other needs emerge and members have ideas or feedback, we hope you will send us a message at [email protected].