Happy October!
The SHRM-Atlanta HR Community has been busy the over the last month
Here's a quick recap!
September Chapter Meeting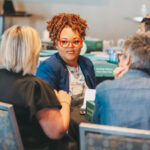 What happens when you find the intersection of work and play? September Chapter Meeting attendees
answered that question with a dynamic workshop led by Jeff Harry. Through activities and dialogue, we rediscovered the fun that can exist in our work and received inspiration to lead with creativity and innovation. Our Chapter Meeting hosts, Main Event-Atlanta, reinforced the message by providing an afternoon of bowling, laser tag, and arcade games!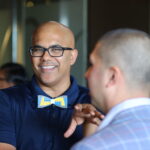 If you missed the September Chapter Meeting, make sure you don't miss the final chapter meeting of the year! Registration is now open for our December Chapter Meeting at the Aquarium, on December 13.  
Group Mentoring Begins 
Launched on September 8th – a strong start with Tom Darrow leading the first month of mentoring and engagement, prompting action from our mentees with the first big assignment: Writing their individual Life Purpose Statement. A unique and flexible approach to mentoring – the benefit is greatest with initiative and participation in discussions. October is here, featuring our next mentor in the panel, Danese Simpkins – this time, we will have an opportunity to meet the mentees and get to know everyone in our cohort a little better. 
State Council Awards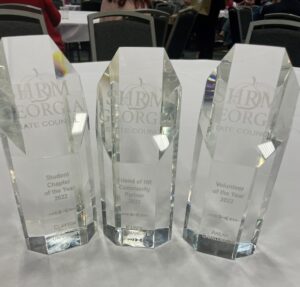 The SHRM Georgia State Council gathered briefly in Savannah before having to evacuate participants as a precaution for the imminent arrival of Hurricane Ian. Before leaving though SHRM-Atlanta's very own Akilah Charlemagne was presented with an award for 2022 Volunteer of the Year! Congratulations Akilah for being recognized for all your dedication and hard work for the Atlanta HR Community!  
Other winners from the SHRM-Atlanta Community included Clayton State University for Student Chapter of the Year, and Kaiser Permanente as Friend of HR Community Partner.  
Let's all give a huge congratulations and THANK YOU to everyone who was recognized by the SHRM Georgia State Council.  
SHRM-Atlanta has a NEW Address! 
Most organizations have spent some time during COVID evaluating how much office space is needed for staff given the change in this new environment, increased remote work, and flex hours. SHRM-Atlanta has done the same and has moved offices to better accommodate the needs of staff while still serving its members. As of October 1, SHRM-Atlanta began sharing space with the Medical Association of Georgia. 
**Please make sure to update SHRM-Atlanta's mailing address to:
1849 The Exchange SE, Suite 254, Atlanta, GA 30339