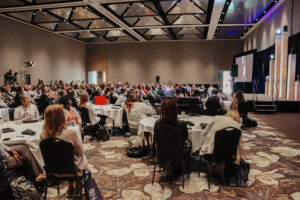 More than 700 attendees, speakers, sponsors, and exhibitors gathered at the newly renovated Gas South District Convention Center for the the first of two days at SOAHR 2023, SHRM-Atlanta's Annual Conference.
With more than 30 sessions to choose from attendees kicked off the day with a morning energizer focusing on breathwork, and then gathered for the main stage keynote talk facilitated by Penny Zenker on how to leverage your time to focus on what matters most.
The Resource Partner Showcase opened with more than 60 companies and organizations represented, all showcasing products and services to help those in HR and make their jobs just a little easier.
Thank you to Kaiser Permanente for participating as the Presenting Sponsor, SHRM as the Supporting Sponsor, and Mercedes Benz as the Leading Sponsor.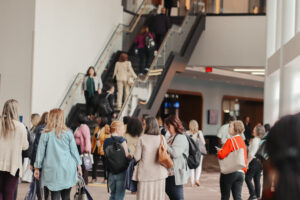 Fireside chats and roundtable discussions were also hosted in the showcase during the afternoon breakout sessions, and allowed attendees to spend some time focusing on topics and shared experiences with their HR community on topics related to pay transparency, supporting staff during layoffs, and talent acquisition and retention .
The day ended with an evening dinner event facilitated by SHRM-Atlanta CEO Jason Cline focusing on leadership and giving attendees one more way to spend time connecting and learning from their HR peers.
📷 If you have pictures to share from SOAHR Day 1 we'd love to see them! Share them and tag SHRM-Atlanta on LinkedIn, Facebook or Instagram! 📷
Day 2 starts at 8:00 am with breakfast in the Resource Partner Showcase.