There's no denying that email is hard to beat for its ability to communicate with your employees quickly. But how effective is email, really? We'd like to show you that there's a better way – a solution that will cut down on the volume of emails your company sends, while communicating faster and making a bigger impact. The answer is digital signage.
Your Employees Are Sick of Email
There are several reasons we feel strongly that HR professionals would benefit from finding alternatives to email.
Would it surprise you to learn that 30% of employees admit they don't read emails from their employers?
Nearly one out of every two employees surveyed say that receiving fewer emails at work would help to increase their job satisfaction.
If that wasn't enough to convince you to cut back on emails, a study by the McKinsey Global Institute found that the average worker spends 13 hours a week managing email — an estimated 28 percent of their workweek.
Fewer emails will increase your team's job satisfaction and productivity (and probably yours, too!). Who wouldn't want a much happier workforce?!
Why Digital Signage Communicates Better
Science shows that 65% of the population are visual learners. That's most of us, and we retain information we see better than written or verbal communication. One advantage of visual communication is its speed of transmission: our brains process images and videos 60,000 times faster than text. And retention? People remember 80% of what they see, compared to 20% of what they read and 10% of what they hear. As our attention spans get shorter the case for visual communication is made even stronger.
Digital screens communicate with your employees in ways that email and staff meetings can't. But don't think of digital signage as a boring PowerPoint presentation. Today's digital screens use movement and repetition, sharing information quickly and in an engaging way.
What to Put on Employee Digital Signage
A few of the most popular ways our clients use digital screens is to share important deadlines, messages from the leadership team, safety messages, and productivity metrics. Here are a few examples: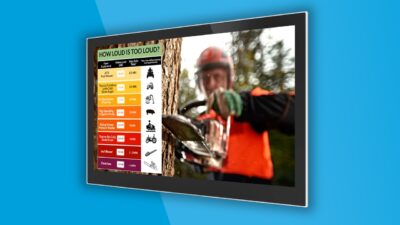 In this manufacturing setting, workers do not sit at a desk or computer. Digital screens don't require sound and they deliver important safety information visually.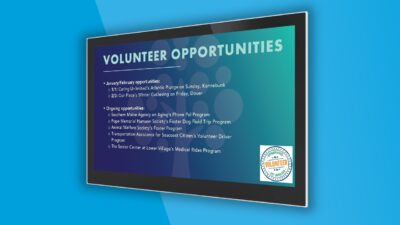 This financial institution uses digital screens before and after branch hours to announce volunteer opportunities. Sharing photos from past events lets everyone know how much fun volunteering can be.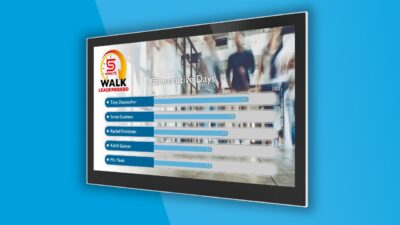 A workplace wellness program started a walking club to encourage employees to get up from their desk every 30-60 minutes. A leaderboard creates friendly competition.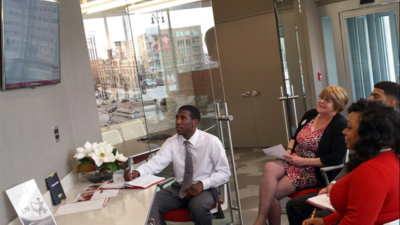 This large bank spans five states and three time zones. The executive team hosts live Employee Town Hall updates, broadcast to over 100 locations. The meetings last 30 minutes and recognize top performers, cover key initiatives, upcoming events, process reminders, and fraud spotting tips.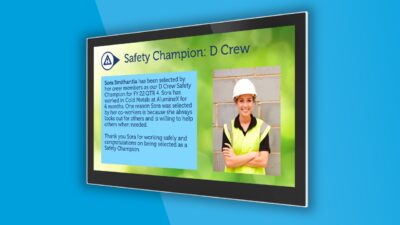 Digital screens make it easy to recognize top performers and those who go above and beyond. They also welcome new hires in a way that immediately makes them part of the team.
Who Manages Employee Digital Screens
So, you're sold on the fact that there are plenty of ways you can use digital screens to inform, engage, and build teamwork among your staff. But who is responsible for the maintenance and content of your screens? Is it your IT Department, Human Resources, or another area?
Our most successful clients take a shared approach to managing their digital signage content. Human Resources often shares the content management responsibilities with the Marketing and Operations teams, making for a well-rounded playlist and fully informed workforce. We recommend you engage as many content stakeholders as possible, giving them all a login to change or upload new content. Viewers will always benefit from more content, more often.
While your IT or Facilities Departments may play a role in the initial digital screen set-up and technical support, your full-service digital signage partner should remotely monitor and support your screens to ensure messages are always playing when and where they should. Want even better news? Cellular iPoster Players will run your digital signage content outside of your company's IT network, freeing your IT department to focus on other critical infrastructure.
In conclusion, anyone setting up a digital signage network needs to be brutally honest about the available internal bandwidth required for success. If you don't have the resources to manage and monitor your screens, companies like Kiosk & Display are ready to dive in and carry the water so you can focus on strategy and the big picture.
What are your employee communication pain points? Chances are good that we've successfully resolved the same employee engagement concerns for clients during our 20+ years in business. Email our employee communications authority Jon VanderMeer – right here in Atlanta – to learn more.
About the author: Jon VanderMeer
Jon hails from Buffalo, NY (ask him where the best wings are in Atlanta). He earned his communication degree from RIT, while growing real world experience and interning at the award-winning communications agency, Visual In-Seitz in Rochester, NY. In 2002 Jon started Kiosk & Display as a one-person operation servicing 28 Wachovia Bank touch screens. He now leads content, installation and support teams who service clients with over 1,000 digital signs and touch screens worldwide. When not helping clients apply practical technology solutions to reach their audience, he enjoys camping and spending time fruitlessly trying to teach his daughter how to fish.