Virtual care has become an important complement to in-person care over the years. 98% of large employers now offer virtual care in their current plan designs and 57% of employers plan to add even more virtual health solutions in 2023.1 Yet telehealth accounts for only 20% or less of all patient visits.2
With such discrepancy, it's easy to wonder what is keeping people from utilizing telehealth offerings. Reasons might include being unaware of virtual care benefits, as well as the digital divide among the following:3
Vulnerable populations, such as those living in areas of limited broadband internet connectivity
People who lack access to smart devices
Those with low digital literacy, meaning they may lack the ease, comfort, and skills to use technology
Despite the reasons, there are ways employers can engage their workforce in using available virtual care. Breaking down barriers to virtual care supports employee health and well-being and can contribute to employee satisfaction. Here are six actions your company can take to encourage your workforce to utilize virtual care.
Designate a private space to access care
In the workplace, consider designating a private space like a room that has secure internet so employees can engage in telehealth appointments and care during a break or right before and after their work shift. The space could include room for employees to participate in physical therapy led virtually by a provider, as well as give them the means to upload clinical information for remote monitoring. Think of this as a similar area of an office designated for breastfeeding individuals to pump during work hours. Both provide privacy, space, and the ability to care for one's health care needs at work.
Subsidize costs for technology
Digital inequities may lead to poorer outcomes for those who lack access to, or struggle with, internet connectivity. Support employees by making them aware of subsidy programs or offer stipends toward the cost of a monthly broadband subscription or the purchase of a device that makes virtual care possible.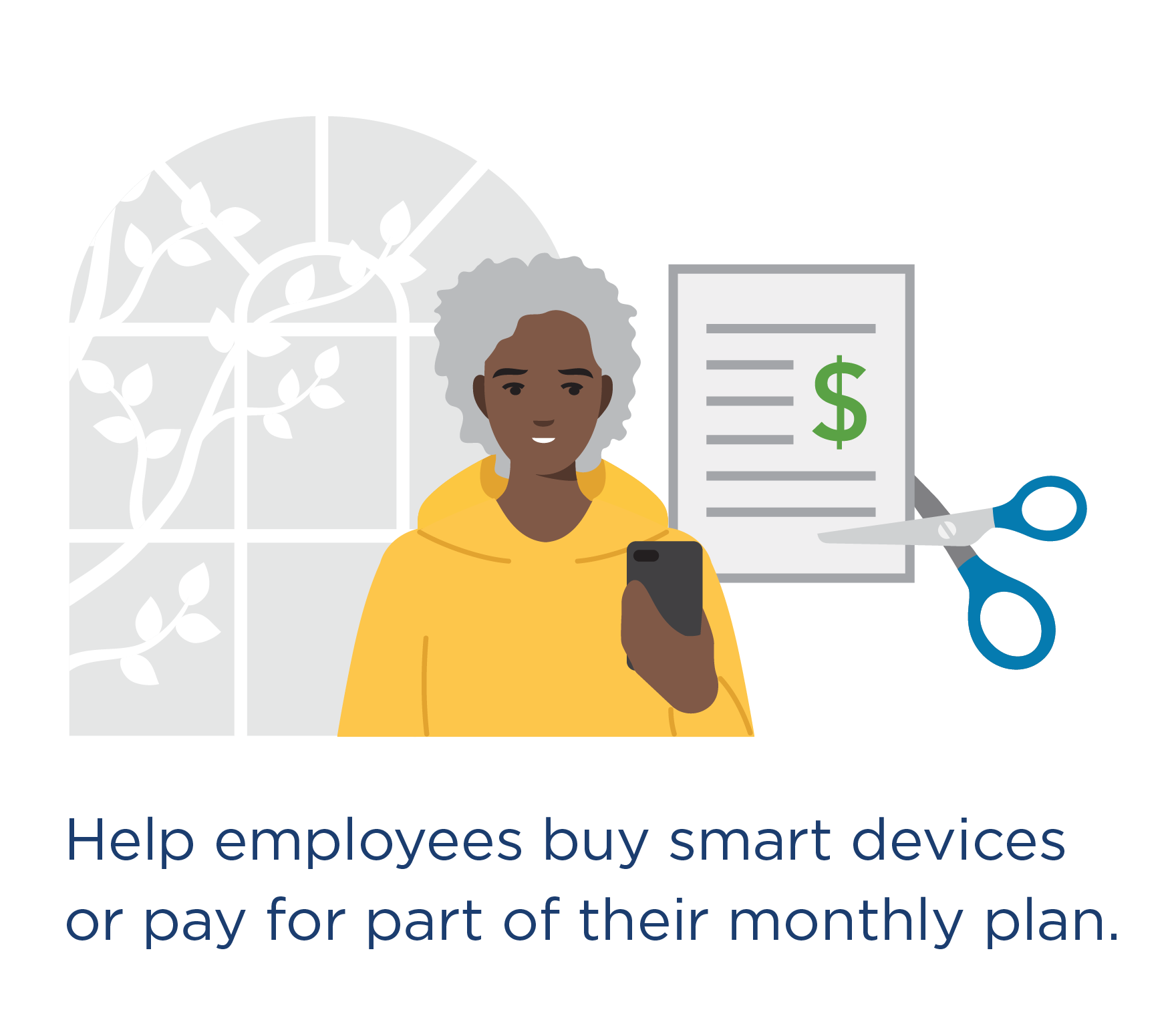 For instance, about 80% of people living in rural areas, vs 89% in urban areas, own a smartphone. Smartphone ownership also declines with age — only 61% of those 65 and older own a smartphone, vs 96% of people 18-29. People with less education and lower income are also less likely to own a smartphone.4
About 19 million Americans lack access to broadband internet speeds required to participate in digital health care. Even for those who live in communities where broadband is available, there are still about 100 million people who don't have an internet subscription.5 When access to high-speed internet isn't possible, many have no choice but to pay for pricey data plans offered by mobile phone companies.6
Communicate to employees about virtual care
Send communications to employees to help them better understand virtual care offerings and encourage them to engage in telehealth. To determine what your message should focus on, work with your health care partner to review demographic and chronic condition population health reports. From this information, create messages that focus on one or more of the following:
Educating employees on the benefits of virtual care, such as providing another option to access care, rather than replacing in-person care, especially when it's difficult to take time off from work for doctor appointments.
Communicating the types of care that virtual care is effective for, such as medication changes, mental health therapy and counseling, physical therapy, post-surgical follow-up, and monitoring and managing recurring or chronic health conditions like migraines, urinary tract infections, skin disease, diabetes, and high blood pressure.7
Sharing information in multiple languages and channels to increase reach and access to diverse employee populations. Additionally, notify employees that no-cost interpreter services may be available from their health care provider.
Provide trainings to increase digital skills and literacy
Having access to telehealth is a benefit, but if employees don't understand how to use the technology that gives them access to care, then they may be intimidated and unwilling to use it.
The following puts people at risk for poor digital literacy:8
Living in underserved or rural locations with low education, income, and an elderly population
Experiencing language barriers
Exposure to digital user interfaces that are not relevant to a person's cultural and ethnic background
Offering basic classes on how to navigate smart devices can be helpful, as well as providing courses or seminars on how to use the modalities necessary to engage in virtual care. If possible, providing this education in various languages and with diverse interfaces can also benefit a variety of populations.
Offer flexibility with work schedules
Allowing employees flexible work schedules to fit in time for medical appointments and needs, whether in-person or virtual, can enhance their well-being. According to a 2022 study, job flexibility can affect health care access and use, even for those with paid sick leave.9
The researchers found that informal features of work environments determine if workers have autonomy to take breaks and arrange their workdays to accommodate taking time for personal needs, such as medical care. Flexibility also affected the likelihood that an employee would use a benefit like paid sick leave.10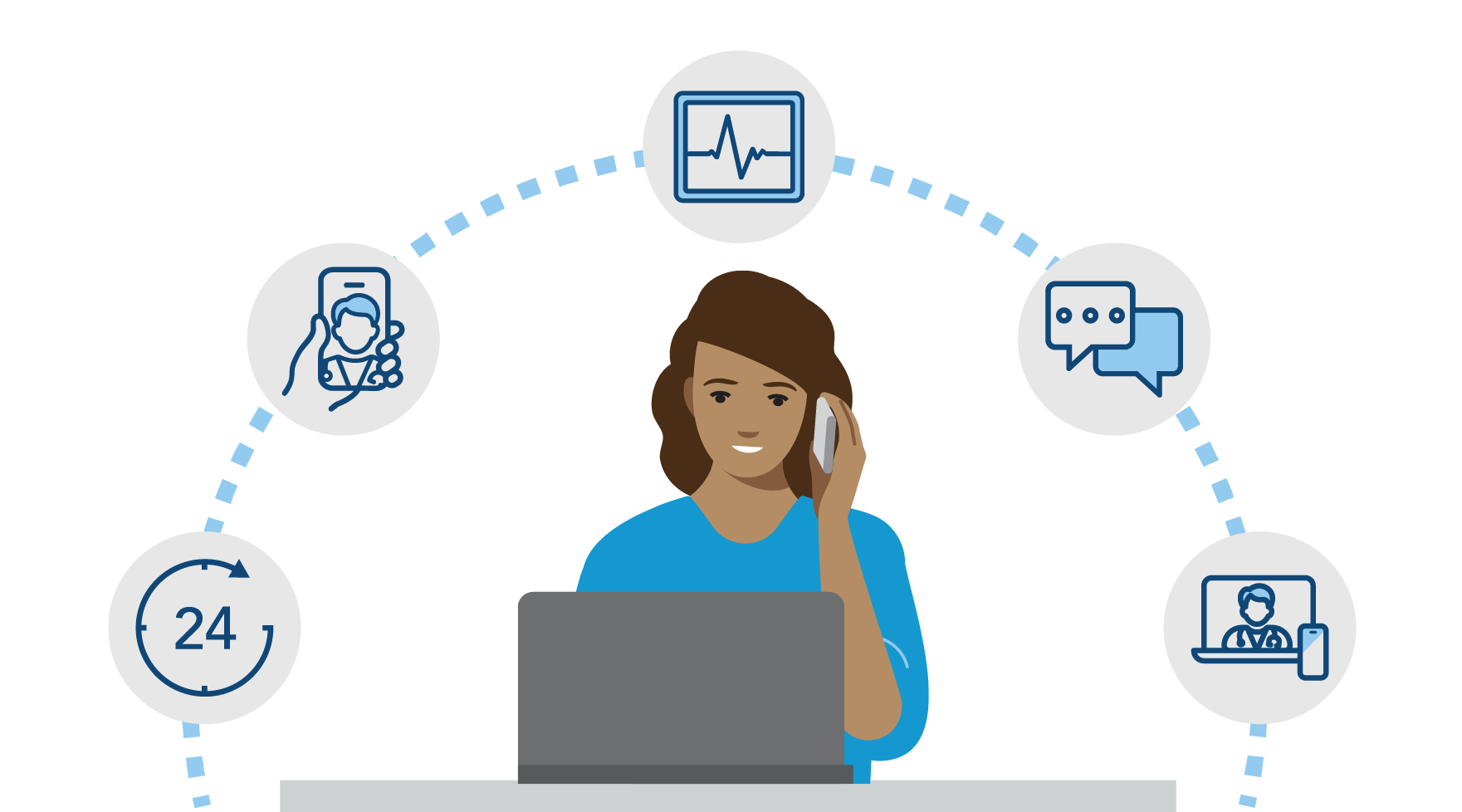 Ensure your health plan offers a range of digital options
Offering virtual care in a variety of forms, such as 24/7 phone, virtual chat, remote patient monitoring, apps, and video, can ensure people have access to options that are practical for them and that they are comfortable using. Moreover, streamlining and unifying all virtual care services into one location, like an app, that provides access to benefits, lab results, prescriptions, and more, can make health care easier to navigate for your employees and increase their engagement.
The bottom line
Engaging employees in telehealth can provide them with care options that fit their needs, as well as help them achieve more equitable health outcomes. Finding the best way to communicate virtual care offerings to a diverse workforce and ensuring they have what is needed to access it are the best ways to set them up for success.
1 "2023 Large Employers' Health Care Strategy and Plan Design Survey," Business Group on Health, August 2022.
2 "The Intersection of Value and Telehealth," Center for Connected Medicine, August 2021.
3 Pravesh Sharma, MD and Christi A Patten, PhD, "A Need for Digitally Inclusive Health Care Service in the United States: Recommendations for Clinicians and Health Care Systems," The Permanente Journal, July 20, 2022.
4 "Mobile Fact Sheet," Pew Research Center, April 7, 2021.
5 "Eighth Broadband Progress Report," Federal Communications Commission, accessed December 15, 2022.
6 See note 3.
7 Health Resources & Services Administration, "What is Telehealth?" June 29, 2022.
8 See note 3.
9 Thomas A. Hegland and Terceira A. Berdahl, "High Job Flexibility And Paid Sick Leave Increase Health Care Access And Use Among US Workers," Health Affairs, June 2022.
10 See note 9.